Using Macro Lens
In order to enjoy Soratama, it is necessary to take close-up photography. The easiest way to do that is to use macro lens. However, not all macro lens is compatible with Soratama. The suitable macro lenses are the ones with focal distance of 24-50mm (35mm equivalent) Also, there are cases where macro extension tube are necessary when using lower magnification macro lenses.
Suitable Lenses
APS-C 30mm (35mm equivalent: 45mm)
APS-C 35mm (35mm equivalent: 53.5mm)
Full Size 50mm (35mm equivalent: 50mm)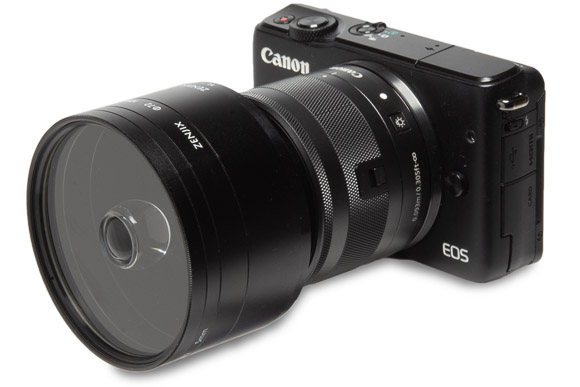 Usable Lens
Lenses with focal distance around 60mm in 35mm format. Soratama Extension Tube makes it possible to use these lenses.
Micro Four Thirds 30mm (35mm equivalent: 60mm)
APS-C 40mm (35mm equivalent: 60mm)
Full Size 60mm (35mm equivalent: 60mm)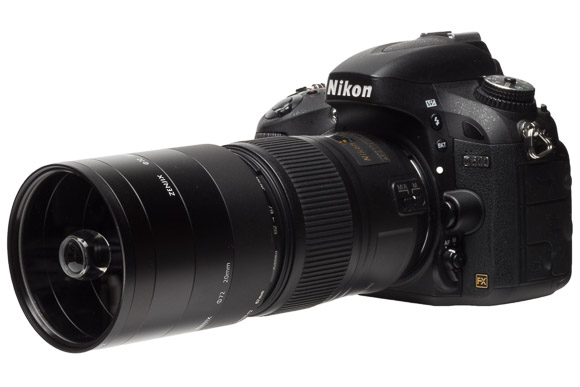 How to Extend the Lens Tube
With "Soratama Lensball Filter" and "Extension Tube 72" the total length of extension tube would be 55mm. If you would like extend more, please purchase another "Extension Tube 72" or extension tubes of other brands.
The "Lens Metal Hood" from Kenko enables to extend the lens tube about 20mm. They offer various diameter lens hoods but "LMH67-72" could convert the lens diameter from 67mm to 72mm. For example, if your lens diameter is 62mm, use 62-67mm step-up ring first. Then fix the "LMH67-72" on, and you will be able to attach "Soratama Extension Tube"
Below is an example of setting Nikon 60mm micro lens. This is applicable for other lenses as well.
62mm diameter lens → 62-67mm step-up ring → LMH67-72 → Soratama Extension Tube Fix Soratama on to the above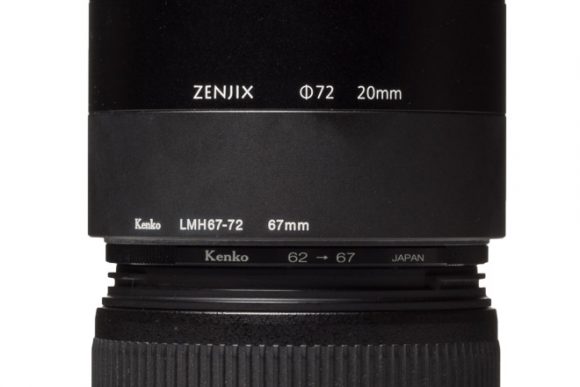 Unsuitable Lenses
Telephoto lenses with focal distance of 90mm or more in 35mm format. You have to lengthen the Soratama Extension Tube too much that the load would be beyond the lens' capacity. Also the depth of field will be shallow and it will be difficult to clearly photograph the edge of Soratama ball. The field angle of background image will get narrow.
Micro Four Thirds 45mm (35mm equivalent: 90mm)
APS-C 60mm (35mm equivalent: 90mm)
Full size 90mm (35mm equivalent: 90mm)